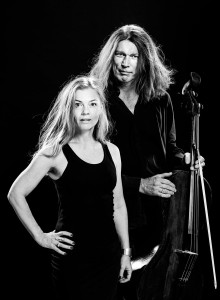 Vår duo började som en familjeangelägenhet. På dop och bröllop. På födelsedagar och begravningar. När familjen samlas är musiken central. Det fanns också två andra viktiga skäl till att vi endast spelade vid den här typen av tillfällen. Med två små barn kunde vi inte turnera tillsammans, någon måste ju vara hemma och ta hand om barnen.
Så, vår duorepertoar växte från noll till konsertformat och cd i samma takt som våra barn har vuxit upp.
Den första sången som vi spelade tillsammans var Eyes of a Child en som som vi också skrivit ihop. Det var på sommaren 1999 när vi just hade fått vårt första barn vår son, Joel. På vår dotter Siris namngivningsceremoni året efter framförde vi "Det växer från Edens tider". Lite mer kontroversiellt vra det kanske när vi gjorde en version av Prince´s "Kiss", i en kyrka när Svantes vän klarinettisten Martin Fröst gifte sig. När en annan vän, vår vän pianisten Roland Pöntinen firade sin födelsedag sjöng och spelade vi "We walk in a fog" – ett framförande som ledde fram till möjligheten att spela in en CD (BIS) som släpptes oktober 2015
"High, Low or in Between"
KATARINA HENRYSON, sångerska och originalmedlem i The Real Group
SVANTE HENRYSON, cellist, multiinstrumentalist, arrangör och kompositör.
Fotograf: Mats Bäcker
Du köper vår CD "High Low or in Between" på CDON eller Naxos Direct
Katarina och Svante – Voice and Cello from Katarina Henryson on Vimeo.