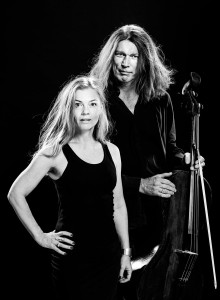 Our duo began as a family affair. At baptisms and weddings. At birthday celebrations and funerals. Places where families gather and music is absolutely central. There were also two other important reasons why we only played at these gatherings. With two small children, we couldn't go on tour together. Someone had to be at home taking care of our children,
So, our duo repertoire grew from zero to a release of our CD (in October, 2015) at the same speed that our two children have grown up.
The first song we played together was Eyes of a Child, a song that we also wrote together.
It was in the summer of 1999 when we just had our first child, our son Joel. At our daughter Siri's name ceremony in 2000 we performed "Det växer från Edens tider". A little more controversial was perhaps when we performed "Kiss" by Prince, in a church, when Svante's friend, clarinettist Martin Fröst got married. When another friend of ours, the pianist Pöntinen, celebrated his birthday, we sang We Walk in a fog – a performance that led to the opportunity to record our CD in 2015.
KATARINA HENRYSON, singer and founding member of The Real Group
SVANTE HENRYSON, cellist, multi-instrumentalist, arranger and composer
Photo: Mats Bäcker
Katarina och Svante – Voice and Cello from Katarina Henryson on Vimeo.